A Scalable, Reliable, Program Game-Changer
Avue AI Assigns Proper Title, Series, Grade, Pay Plan For You
———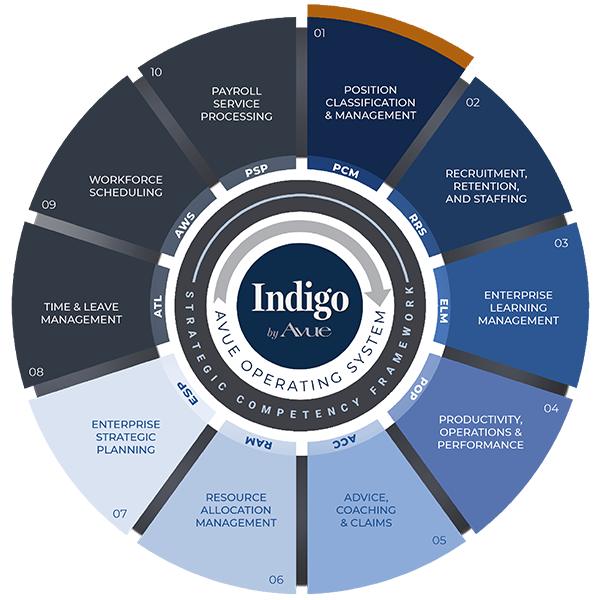 Create, document, and classify positions in 15 minutes to one hour – shaving months of cycle time. Avue's AI ensures built-in compliance, reliability, and consistency across the enterprise. AI focuses on the transaction, so you can focus on creating a dynamic, adaptive, and agile workforce management strategy.  Get online and create and classify positions immediately upon activation of your subscription.
The Four Cs of Classification
Indigo by Avue's Position Classification and Management (PCM) insures core cognitive and behavioral competencies that create the best job fit, and ensure workforce agility and elasticity, thread through job architecture, classification, career journeys, performance, accountability, and continuous re-skilling and learning.
PCM includes the Four Cs of Classification:
Design Positions to Market Compensation
Architect Careers Based on Core Competencies
Compliant with the Merit System & Law

Cornerstone

for Other HCM Processes
Position DNA: Building a position in Indigo
PCM supports PD development by managers, HR liaison staff, and HR professionals.  As duties are selected for the position, Avue's artificial intelligence (AI) classification engine automatically assigns the proper title, pay plan, series, and grade – all on the fly.
Users are prompted to provide data when required and are provided multiple avenues to add information to the position to better define it.  Managers may, for example, define KSAs and competencies along with certifications and other credentials to perform the work at ideal performance levels.
Know the Genome of Your Agency
The Science of Position & Talent Management starts with understanding the makeup of the workforce and its current productive capacity and costs.  With Indigo by Avue's PCM you can map the genome of the agency and know the competencies, skills, and capacity of your enterprise.

Avue's content database makes it quick and easy to create and classify positions.  More importantly, it provides the "gene mapping" of positions across the enterprise.  With each position's DNA captured as the user selects major duties and detailed tasks.  Each position is efficiently mapped for better position management, leading to more efficient workforce management, budget analysis, and targeted, focused, recruitment that sources a high-quality candidate pool.
Imagine the power of a position management program that sees the DNA of positions. Gene mapping positions across the enterprise provides greater understanding of who does what, where, and at what cost.
Enterprise Position Management
The Art of Position & Talent Management is in developing workforce strategies & tuning business operations to fulfill requirements within your constraints.  Indigo by Avue's PCM supports every element of position management, including tracking and monitoring authorization levels and staffing plans. PCM's Enterprise Genome is a data-driven means of creating strategies to mitigate risk and build an agile, responsive, and robust workforce.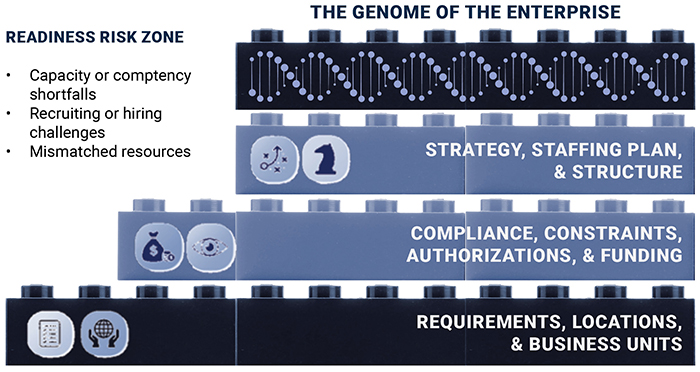 Whether you're implementing a traditional position management or manpower program or initiating a new strategy for creating a flexible and agile workforce, you're miles ahead with Avue's DNA-level position mapping and the genome of your enterprise on your screen.  Nothing supports data-driven strategic workforce development better.
An Avue Position File Automatically Creates Documents for Each Position Based on the Duties Selected and the Job's Classification.

For each position developed in PCM, other core human resource documents are generated automatically, and simultaneously, as the Position Description is developed.
Avue's federal occupational multi-purpose job analysis is at the core of the entire platform and is the cornerstone for many downstream HCM business processes and informs organizational strategies for enhancing engagement, accountability, and continuous learning in the workforce.
PCM Auto-Generated Documents Include:
Position Description
Position Information (Demographic Data)
PD Cover Sheet (OF-8 or Agency)
Position Status Log
Evaluation Statement
FLSA Exemption Determination
Position Edits
Vacancy Announcement
Job Analysis Worksheet
Crediting Plan
Interview Guide
Position Skills Profile
Performance Plan
Managerial Guidance
Individual Development Plan
Recruitment Preferences
Any Attached Documents