Data-Driven Leadership
At Your Fingertips
The full range of tools needed for a continuously evolving and innovative approach measuring the capacity, effectiveness, and goal and task execution of the entire agency enterprise down to the individual employee level
———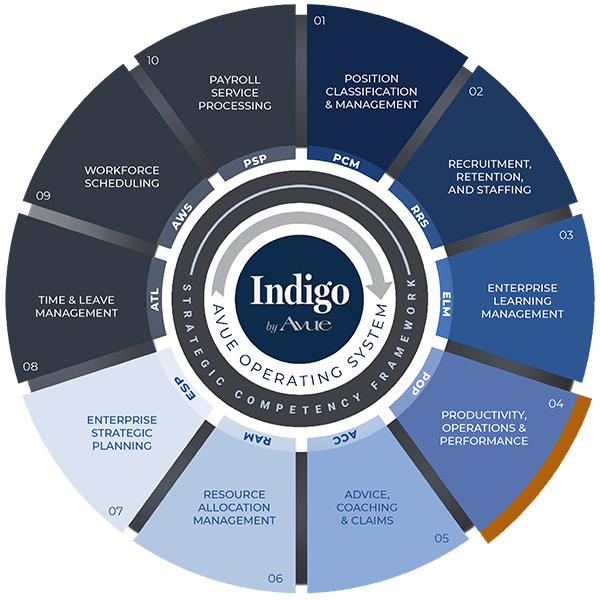 The Indigo by Avue Productivity, Operations, and Performance (POP) product is a comprehensive approach to business operations management for individual performance as well as performance across agency operations.
For individual performance, POP addresses the complete end-to-end performance management process, from performance plan creation to monitoring to evaluation and the final rating of record. POP provides automatic generation of plans, performance awards, performance improvement plans, etc., as well as online coaching for managers.
For administrative business operations (finance, HR, IT, etc.) POP acts to capture and generate reliable and accurate data and outcomes from operations and then to provide visibility, insight, and actionable management through dashboards. POP includes Avue Service and Processing (ASAP) custom-configured workflows for any business processes that are not accurately tracked through other agency systems.
The engine behind POP is ASAP, the component of Avue that provides the powerful, flexible and robust workflow and case tracking capabilities inherent in the Platform. ASAP is the only human resources system to include business activity monitoring and reporting as a standard system and service feature. ASAP also provides a means for the agency to see total workload, move transactions from overtasked specialists to under tasked specialists, and optimize processing to meet immediate demands. ASAP supports both collaboration workflows, such as for Vacancy Announcement request, creation and approval, and performance management and optimization, and transaction workflows, including feeding data to agency PAR processing systems. ASAP Workflows can be configured for any HR Business Process in the organization.
Unique to Avue, we understand that diversity of business process is a reality in large organizations and have ensured that the system conforms to the agency's business process rather than forcing the agency to conform to the software — creating an efficient and highly effective automated workflow for tracking, assessment, and measuring without the difficulties of extensive, and often exhaustive, change management.
Extensive reporting capabilities. Exhaustive AI data gathering and generation. Sweeping metrics and analytics. POP provides agencies with a complete program for individual performance and agency business operations assessment.
POP for Administrative Business Operations
Position Classification & Management
Reporting capability that allows users to build online standard and ad hoc reports from a rich array of report fields.
Data analytics and online, standard, and ad hoc reporting of positions and classifications down to individual tasks.
Position management reports on a variety of ratios, mixed positions, span of control, and payroll costs, burn, and lapse rates.
Recruiting and Hiring
Allows agencies to track applicants through all phases of the candidate assessment process, including processes involving multiple concurrent phases while maintaining constant visibility on all candidates.
Provides program managers with complete real-time visibility on each applicant's status and progress through supplemental assessment processes and identifies where bottlenecks or inefficiencies are elongating cycle time.
Resource Allocation and Management
Provisioning tasks are integrated in the workflows for processing personnel actions.
Provides real-time visibility of the status of provisioning requests.
Workflow enforced an approval process for provisioning activities.
Provides workflow for on-boarding and off-boarding contractors. Maintains an accurate report of contractors on-board along with the contract performance period, assigned organization, Contracting Officer Representatives (COR) and contract number.
Entry on Duty
Covers the on-boarding workflow that occurs when the new hire reports to duty.
Includes integration with personnel action processing (PAR) and payroll systems. Can feed information captured during the on-boarding process through system interfaces.
Individual Performance Management
Automatic and ad hoc generation of reports for upper management or approving officials that help track business unit performance and compare unit performance to organizational goals, operating plans, and objectives.
A fully digital performance appraisal process where appraisals are tracked, performance deficiencies are evaluated, and improvement plans generated by the module.
Integrated workflow and approval tracking with real-time metrics analysis.
Integration with payroll and other data to view prior year performance, promotion patterns, training received, and other performance related information.