Unmatched visibility and control
Comprehensive tracking of an agency's assets and inventory
———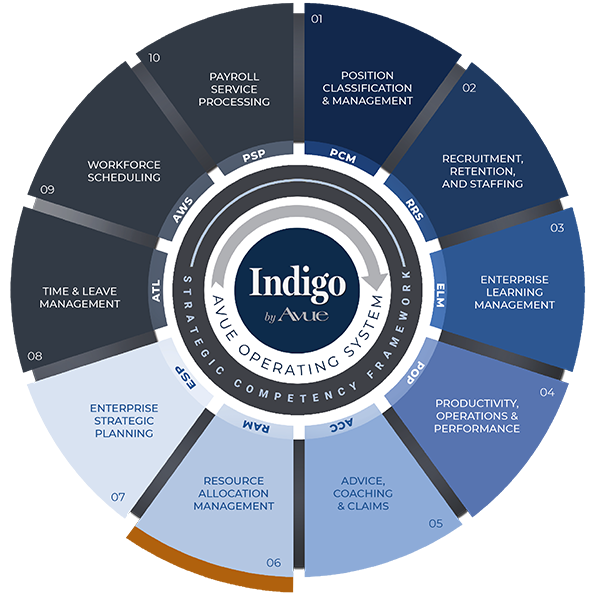 Indigo by Avue's Resource Allocation and Management (RAM) is a dramatic breakthrough for federal agency effectiveness. RAM gives federal senior and line managers the ability to know, use, and assemble all the resources of the agency's extended enterprise and to receive real-time performance assessment.
Mobilize RAM is comprised of four principal capabilities:
Human Assets. Obtaining – through a robust onboarding process and coupled with Avue's APIs and workforce skills survey for those already onboard – RAM provides ongoing maintenance of a complete inventory of key information for all human assets, regardless of source;
Provisioned Assets. Asset provisioning and tracking capabilities for assets provisioned for people – email, network access, purchase cards, laptops, phones, and more. RAM serves as a single hub with interconnections to all relevant agency systems. RAM off-boards and deprovisions these same individuals and teams;
Contractor Management. RAM's robust contractor management process, along with APIs to contract management systems, inventories and tracks the contractor, contract number, start and end dates of the contract and period of performance, the CO and COR, the work to be performed, its location, contract SOW, milestones, and KPIs, logistical information for all key individuals, and all other contract or associated information the agency desires;
Incident Accountability System (IAS). IAS is a specific set of RAM feature functionality that tracks workforce location and status during an emergency event or similar circumstances.
RAM-Collected and Generated Data Includes Attributes of the Workforce, including:
Employment Type: Full-time, Part-time, Contractor, Intern, Detailee, Student, IPA, Temp
Personal Attributes: Cognitive & behavioral competencies, leadership, skills, training, certifications & credentials, etc.
Position Attributes: Title, series, grade, duties, tasks, and specialized skills
Agency Provisioned Assets: Email, network access, purchase cards, transit passes, laptops, phones, safety gear, etc.
Contractor Specific Tracking: Contractor, Contract Number, Contract and POP start & end dates, SOW, KPIs, Info on key individuals
Initial Setup and Deployment
RAM's accurate, insightful, and actionable, real-time, information provides the platform that agency management needs to deliver an engaged workforce. The power of RAM means that new hires are productively deployed on Day One, the total blended workforce of employees and contractors are empowered to perform, and agency capacity matches the mission demand.
Bringing this power to bear starts with collecting all the baseline information on existing assets during RAM's initial setup and deployment. Using Avue's APIs, and coupling them with Avue's module data, existing data are validated and, as new hires and contractors are onboarded all data are continuously maintained in a high quality, accessible, and renewed manner.
By utilizing either direct tracking or bidirectional feeds from the organization's other systems, RAM concurrently displays the characteristics of physical assets such as supply levels, inventory, condition, location, and other relevant information.
Onboarding and Provisioning
RAM provides all the necessary functionality for onboarding and asset provisioning new hires and contractors – along with tracking the onboard workforce. Avue provides automated electronic forms management, automated tasks management, automated workflow, and tools for socialization into the client's culture to allow for effective, efficient onboarding. New hires (or contractors) complete information once, and it is used to populate all forms in a one-stop process.
Forms are then submitted electronically. Users receive alerts, reminders, and notifications throughout the process. Employee-provided information flows electronically to dependent systems of record.
RAM covers the on-boarding workflow that occurs when the new hire reports to duty. RAM includes a checklist for new employee or contractor orientation and can also be used to schedule new employees for training. Offboarding is handled the same way – for contractors and employees.
Features of RAM's System for Onboarding and Offboarding
RAM allows for the selection of forms to be completed by new hires and contractors and the online entry of data used to populate those forms.
Indigo by Avue uses a "TurboTax®"-style interview process where data is entered just once and re-used as needed on any and all forms. The process includes all forms standard or customized by the agency.
RAM includes alerts, reminders, and notifications to selectees to notify them of status and when they are required to perform an action.
RAM includes a configurable option that allows a new hire to track their progress through the onboarding process. The process steps that are visible to the new hire can be controlled through user roles and permissions.
RAM includes integration with Avue's AOS personnel action processing (PAR) and agency payroll systems. RAM feeds information captured during the on-boarding process through system interfaces.
RAM allows HR Professionals to designate the position within the organizational chart to which the new hire will be assigned. The new hire will automatically display in the organizational chart upon the new hire start date.
RAM includes checks to verify conditions of employment. These conditions of employment may include, but are not limited to, background investigations, drug testing, and verification of credentials. The RAM workflow allows these checks to be performed concurrently but allows for a final review for all conditions of employment.
Asset Provisioning
RAM adds asset provisioning and management. Utilizing either direct tracking or bidirectional feeds from the organization's other systems, RAM displays the physical assets such as supply levels, inventory, condition, and location. Assets assigned to individuals, such as purchase cards, personal protective equipment, and others, can be tracked with the individual and automatic notification to return such assets or automatic termination of access.
By utilizing either direct tracking or bidirectional feeds from the organization's other systems, RAM concurrently displays the characteristics of physical assets such as supply levels, inventory, condition, location, and other relevant information.
Contact Team Management
RAM is a communications hub for contact management and relationship management with agency employees and contractors. Messaging, communications, documents, recruitment events, event triggered notifications, and all activities can be shared among teams and the user community, as a whole, within the Mobilize RAM process as well as through defined online teams in Avue's contact team management functionality. This promotes learning, status updates, and cross-functional communications.
Contractor Management and Information Control
Utilizing either direct tracking with user-supplied data or bidirectional feeds from the organization's other systems, contractor personnel are managed through in an accessible view that allows all authorized users visibility on their contractor workforce.
Contractor Management Workflow
Avue provides workflow integrated with decision-logic algorithms that provide the 'soft guardrails of regulatory compliance' with reality-based business process logic. No cookie-cutter approach here. Concurrent business processes, with different process owners, insures bottlenecks don't develop without clear visibility as to the process owner accountable. Avue eliminates regimented and unwarranted sequencing of process steps in favor on parallel processing so that everyone can engage as necessary. Avue's unlimited concurrent users capability means everyone gets online when they want. All workflow steps are flexible and configurable to agency business rules and processes, as well as changes in onboarding and offboarding processes.
Incident Accountability
The Incident Accountability System (IAS) is a component of RAM that enables real time accounting for a workforce (employees and contractors) before, during and after an "incident," an event requiring the organization to centrally account for a part or its entire workforce. An incident could be as small as the evacuation of a single office in a building due to harmful fumes, or as large as the urgent evacuation of the entire workforce because of a natural disaster. During an incident IAS serves as the communication centerpiece for the agency. IAS provides for the agency workforce the ability to report on their own and others' status during an incident and provides centralized visibility on the status of the workforce at both a high level and at the individual level.
RAM IAS Program Management defines the people and processes for taking action during an incident, and also prepares and publishes information for Team Leads and the workforce on their roles and responsibilities during an incident and coordinates periodic tests of IAS to ensure everyone is prepared to use the system effectively. IAS Team Management is used to set up geographically defined teams of employees and contractors. Employee Emergency Contact information is entered and maintained by all agency employees. In the event of an incident this provides the agency information regarding the employees' work schedule, location and emergency contact information.
Summary of Features in RAM
Configurable user roles enforce "need to know" access to information and process requests.
Workflow is flexible to adjust to changes to any business process, including on-boarding and off-boarding. Reverse processes for off-boarding and de-provisioning.
Workflow can route actions based to organization-specific contacts. Actions may be routed directly to individuals or teams. RAM allows for both primary and secondary contacts to be defined.
An audit trail is maintained on all RAM actions, including provisioning.
Resource reporting for centralized visibility of all resources that have been requested, approved, provisioned and returned.
RAM provides an inventory of key information for all employees and other relevant members of the organization's extended enterprise such as contractors, including:

Detailed skills and competencies.
Residential geographic location and assigned official duty station.
Availability including type of availability (e.g., fulltime, part-time, or as a consultant).
Contact information including email addresses for electronic outreach.
Security clearance type and status.
Travel clearance and passport confirmation.
Specialties and any certifications or specialized training received.
Personal preferences for type of employment and travel.
Other availability and skill information.
Emergency contact information management and tracking and reporting in during emergency events.

Assets assigned to individuals, such as purchase cards, personal protective equipment, and others are tracked with the individual and automatic notification to return such assets or automatic termination of access,
The Avue® workflow system insures that appropriate individuals are notified automatically when such events will trigger so proper follow up can occur and completes any necessary formal personnel actions or payroll transactions.
Suggestions on whether to reassign, retrain, or hire the skills required.
Monitoring progress toward goals by tracking organizational changes to positions, staff, and individual performance.
Maintenance of a complete inventory of the skills, certifications, clearances, availability, preferences, education, and other pertinent information on the individuals within your workforce, regardless of whether these characteristics relate to the individual's current position or to prior positions.
Matching workforce assets with near-term or emergency needs and situations, and special needs circumstances such as task forces, special projects, or interdisciplinary teams, notifying prospective candidates of opportunities for reassignment, details and projects.
Setting up contingency teams to shorten staffing response times and improve operations.
Providing agency-wide organizational chart form to provide visibility on workforce assets, current locations, current supervisory structure, and other important characteristics, such as years of service, and competencies by individual and by business unit.
Assistance in defining actions managers should consider based on forecast trends, while helping managers engage more proactively to reduce cycle time between workforce events and corrective, supplemental, or replenishment actions.
Track workforce location and status during an emergency event that prompts evacuation or similar circumstances.
Desktop access to integrated, organizational and employee data, taken from payroll, personnel and budget systems and merged with Avue® data.
Analytic tools to compare resources with requirements and organizational capacity with demand.
Graphic and tabular display of costs, headcount, and gap analyses and constant monitoring provided via the Avue Command Center.
Determination of organizational readiness to take on new missions by comparing current workforce skills with those required for a new or changed mission.
Identification of the most effective strategy for responding to changes in mission by analyzing skill information, training capacity, and workforce availability, hiring trends and labor market data.