Talent acquisition is equal parts
art and science.
–––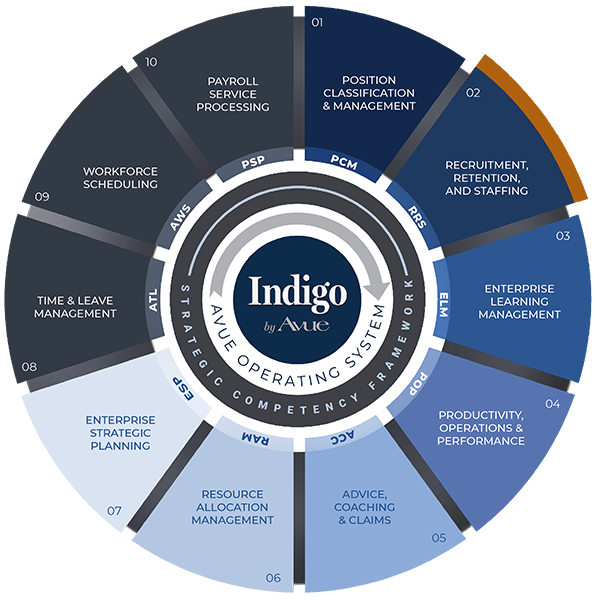 It requires broad understanding of current and emerging technology — and evolving cultural communication — yet requires the technique, experience, and skill to interpret your organization's needs against and ever-changing regulatory climate. Against this backdrop, agencies need Avue — an agile, adept partner who can produce results in talent planning, recruiting and sourcing, candidate assessment, selection management, and enterprise operations planning.
Indigo by Avue's Recruitment, Retention, and Staffing (RRS) is perfectly aligned with the needs for your agency's web-based talent acquisition solution:
Avue uses a Continuous Flow Model of talent sourcing and acquisition, creating an open talent marketplace that leverages all talent arrangements to design an agile, elastic, and adaptive workforce where talent moves more freely across the organization and facilitates movement between the private sector and the federal government.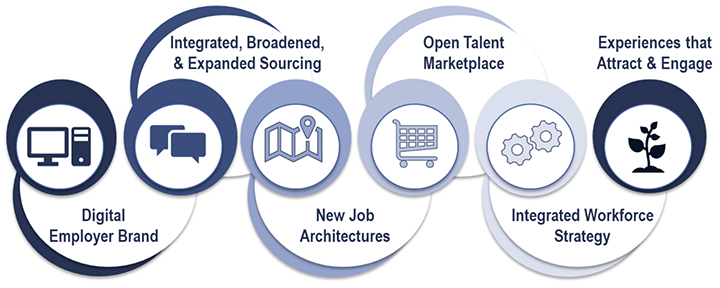 Indigo by Avue's talent sourcing features maximize the employer's brand and utilizes all channels to attract permanent employees, temp or term hires, alternative work schedule employees, interns, consultants, contractors, retirees, and outsourcing in one

easy-to-access and shared talent pool

.
Avue generates highly qualified lists of people for hiring managers to consider and it does so in minutes – not months.
Avue flips the federal hiring process to be talent-centric instead of regulation-centric. For example, each applicant completes a preliminary assessment of eligibilities that takes a few minutes. From the results, Indigo by Avue's eligibility AI engine determines which of the 188 federal hiring authorities can be used to hire this individual into the agency, providing an innovative, and yet regulatory-compliant, means of hire.
Indigo by Avue creates a unified assessment process, by career paths, that assesses competencies for the full range of talent sources, whether the individual is an applicant for employment, a contractor employee, or a contributor of another kind. This expands the range of talent for the manager to consider.
Supporting performance optimization, accountability, and a strengths-based culture of continuous feedback and employee development, Avue's performance ecosystem combines multiple sources of data for reliable data-driven performance assessment.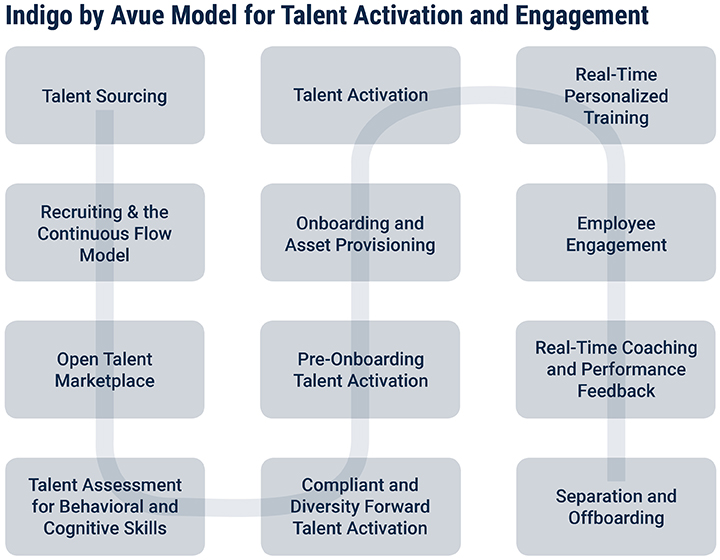 The Indigo by Avue's Recruitment, Retention, and Staffing (RRS) provides for electronic recruitment, job posting, online application, rating, ranking and referral of candidates.
Approved positions are posted to over 1,600 .org and .edu recruitment sites simultaneously, as well as social media sites like Facebook, Twitter and LinkedIn.
The system builds a custom job application based on the specific requirements of the position that applicants will complete online and submit for rating and ranking.
RRS automatically produces:
Public notice vacancy announcement (USAJOBS format)
Job summary, short-form vacancy announcement for advertising
Email postings for outreach to Avue's 1,600-plus recruitment sites
Job analysis worksheet
Applicant assessment questionnaire
Crediting plan
Behaviorally based, benchmarked interview guide
Online reference check or telephone reference script
USAJOBS export file (XML or email versions)
The Ultimate In Effective Recruitment
Indigo by Avue RRS reviews all applications and produces a list of highly qualified applicants for the hiring manager. Avue's Artificial Intelligence logic automatically adjusts the lists based on regulatory requirements and union rules to take into consideration special priorities such as veteran's preference, eligibility requirements and priority placement programs.
RRS also allows applicants to define their interest so that they are automatically informed, by email, when positions are posted that match their profile. The RRS stream maintains a centralized database of applicant information that can be easily queried to retrieve applications of candidates with previously determined skill sets and competencies for open positions. In addition, each staffing action is electronically archived to provide an historical record of all applicant transactions.
RRS supports the integration of diversity goals with each staffing action to assure management and HR decisions are tailored to increase diversity and achieve goals related to full representation.
RRS is the ultimate in applicant relationship management, with automatic, customized, email notifications at every stage of the process, along with 24×7 applicant self-service tracking and status lookup online.
Range of RRS Features
Automatically determines whether candidate meets basic qualifications.
Automatically rates and ranks candidates, including applying Veterans' Preference and assessing and flagging applicants available through alternative hiring authorities.
Automatic generation of referral list and notifications to managers that referral lists are available (online) for candidate review, further assessment, and selection.
Automatically verifies that academic degree was earned from accredited institution and flags applicants where accreditation is not found.
Online reference checking and automatic generation of telephone reference checking guides.
Ability to automatically access over 1,600 .org and .edu recruitment sources specific to diversity, occupational, and affinity groups.
Automatically pulls applicant data from USAJOBS.
Posts single-use and open-continuous vacancy announcements.
Allows single or open-continuous job postings with multiple locations and at multiple grades/series. Applicants select location preferences, from a list or a map. Only applicants who have selected the locations appear on the referral list for that location.
Single job announcements covering multiple types of appointments and work schedules.
"Combined Internal/External Announcement" places a statement on the vacancy announcement that indicates the vacancy is a combined announcement and that applicants will be rated for all categories for which they are eligible. Referral lists are generated for each category (internal v. external) since different list rules apply.
Career ladder announcements.
Multiple series and inter-or multi-disciplinary announcements.
The full range of Senior Executive, Senior Level, and other high level and "specialized" positions.
Recruiter support, program management, prospect management, and event management.
Survey of both applicants and managers to track satisfaction on each and every announcement.
Report on applicant flow and diversity content of applicant pools using the Avue online reporting tool.
Automatic generation of OPM-required Delegated Examining Quarterly Workload Report.
Automatic applicant sorting based on the client's business rules and processes.
Applicant status tracking. Including: contacted, interviewed, selected, accepted, declined location, declined salary, failed to reply, removed for qualifications determination, removed for suitability, and more.
Communicates with applicants via email and mail/merge hard copy notices throughout the process, as well as 24/7 applicant ability to look up status.
Email notifications to applicants to update applications and indicate continued availability and/or interest on Open Continuous announcements (the default update request is every 60 days) and automatic updates to the applicant pool based on the applicant's response.
Applicant self-service tracking and status lookup online.
Warning notices delivered by email 72 hours before an announcement closes, to applicants who have started but not completed applying.
Varied applicant assessment and referral list generation processes that are tailored to the specific need of the Department/Agency.
Referral lists can be ranked using a variety of methods including in score or alphabetical order, in categories according to category ranking procedures, or in random order.
Applicant lookup for users with authorization and system permissions — an authorized user can look up any applicant by typing in the applicant's name. All vacancies for which the applicant has applied are then displayed, along with the applicant's status (e.g., applied, basically qualified, interviewed, etc.). Avue uses this to help manage name requests and special recruitment activities.
Online, ad hoc, reporting of all activities at every step in the HR process including, for example, metrics related to hiring cycle time, service delivery performance, and applicant flow data.
Automatic reporting on progress toward the OPM 45-Day Hiring cycle and the 80-day hiring end-to-end process roadmap.
Ability to copy and reuse vacancy announcements.
Tracking and reporting on recruiting sources effectiveness including applicant flow from sources and tracking applicants from certain sources such as paid advertising and job fairs.
Automatic generation of EEOC MD-715 reports.
Online ranking or interview panel support including invitations to participate on the "vacancy team" and online, and upon request onsite, support recording assessment scores and comments and scoring online during the session.
RRS Assessment Features

Substantially enhanced capabilities for assessing job applicants and promotion candidates
Allows agencies to track applicants through all phases of the candidate assessment process, including processes involving multiple concurrent phases while maintaining constant visibility on all candidates.
Monitors candidate successes and failures and can pull candidates immediately, from all processes, in the event of a failure.
Allows organizations to sequence individual steps in a process so that the least expensive but highest failure rate steps are advanced, and constantly monitors pass/fail rates on each step to improve the process for both reduced cycle time and reduced costs. For example, credit checks and drug tests can be placed ahead of medical exams or interviews to save on costs and eliminate candidates early rather than later in the process where costs increase.
Electronically notifies applicants of their status or pass/fail points at various trigger points set by the organization and any rights to appeal or reapply.
Has a scheduling feature that allows applicants to self-schedule and also monitors candidate scheduling for such activities as medical exams — prompting candidates with reminders should they fail to schedule or complete such exams. After a series of prompts, if the candidates do not act, they can be notified they are dropped from consideration. Scheduled events are automatically exported to personal calendars such as Microsoft Outlook™.
Facilitates additional assessments such as background/security checks, drug testing, physical/medical exams, cognitive testing, physical agility tests, psychological assessments, and candidate interviewing.
Provides the foundation for Avue's unique Backchk™ Express process that enables a "vouchering" process to get employees on board and working under interim security clearances pending completion of full clearance reviews.
Works together with actual supplemental services which may be performed by the customer or third-party providers. In each case, Avue serves as a single communications hub for collecting and disseminating information, appointment scheduling, results reporting, and operational metrics. This allows applicants to apply for a number of jobs from a single Avue profile without re-entering redundant information and repeating unnecessary background/medical assessments. Applicants also use their Avue account to schedule any required drug testing and physical/medical assessments at locations nationwide. Service providers, in turn, access Avue to retrieve only the information necessary to complete their assessment and to input status and results.
Provides program managers with complete real-time visibility on each applicant's status and progress through supplemental assessment processes and identifies where bottlenecks or inefficiencies are elongating cycle time.
Tracks background investigation results and maintains information so disqualified candidates are not considered in the future and those that are determined to be qualified can be 'fast-tracked' for hire ahead of those involved in more elaborate investigations.
Includes an applicant self-scheduling feature for such activities as medical exams. It prompts candidates with reminders should they fail to schedule and complete such exams. After a series of prompts, if the candidates do not act, they can be notified they are dropped from consideration. Scheduled events are automatically exported to personal calendars such as Microsoft Outlook™.
Maintains co-marketing relationships with various third-party firms to provide an "end-to-end" solution for those clients that wish to outsource the entire process of background and physical/medical/psychological evaluations. Any actual supplemental evaluation services offered are separately priced.
Onboarding and Offboarding

RRS provides all the necessary functionality for onboarding new hires – along with tracking the onboard workforce. Avue provides automated electronic forms management, automated tasks management, automated workflow, and tools for socialization into the client's culture to allow for effective, efficient onboarding. New hires complete information once, and it is used to populate all forms in a one-stop process.
Forms are then submitted electronically. Users receive alerts, reminders, and notifications throughout the process. Employee-provided information flows electronically to dependent systems of record.
RRS covers the on-boarding workflow that occurs when the new hire reports to duty. RRS includes a checklist for new employee orientation and can also be used to schedule new employees for training. Offboarding is handled the same way for employees.
Features of RRS for Onboarding and Offboarding
RRS allows for the selection of forms to be completed by new hires and the online entry of data used to populate those forms.
Indigo by Avue uses a "TurboTax®"-style interview process where data is entered just once and re-used as needed on any and all forms. The process includes all forms standard or customized by the agency.
RRS includes alerts, reminders, and notifications to selectees to notify them of status and when they are required to perform an action.
RRS includes a configurable option that allows a new hire to track their progress through the onboarding process. The process steps that are visible to the new hire can be controlled through user roles and permissions.
RRS includes integration with Avue's AOS personnel action processing (PAR) and agency payroll systems. RRS feeds information captured during the onboarding process through system interfaces.
RRS allows HR Professionals to designate the position within the organizational chart to which the new hire will be assigned. The new hire will automatically display in the organizational chart upon the new hire start date.
RRS includes checks to verify conditions of employment. These conditions of employment may include, but are not limited to, background investigations, drug testing, and verification of credentials. The RRS workflow allows these checks to be performed concurrently but allows for a final review for all conditions of employment.