Accelerate the Scheduling Process,
Improve Productivity
———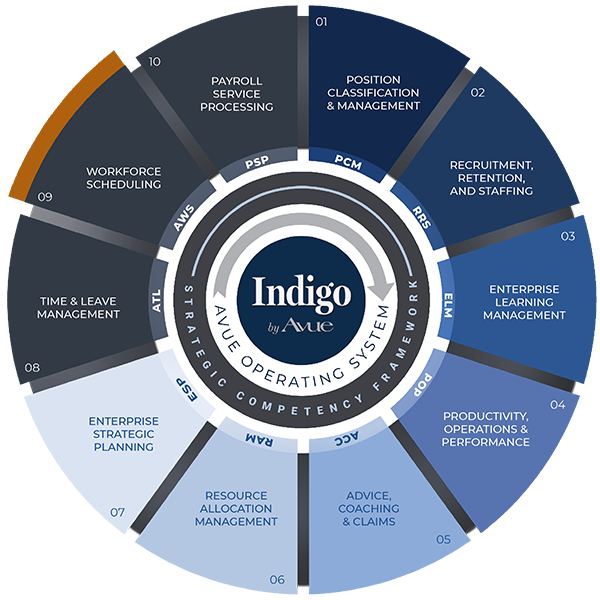 Indigo by Avue's Schedule Stream for Workforce Scheduling (AWS) automates schedule management for organizations with teams of employees who perform shift work.
It reduces the time a manager needs to spend ensuring schedules are filled with qualified employees based on the demands for the day. AWS uses "bumping" to automatically fill schedules with employees based on their shift patterns, job qualifications or employee rankings.
In addition, AWS assists managers in performing other daily staffing requirements including booking employees off, finding replacements to meet qualification and overtime rules and performing mass changes quickly and easily. AWS is seamlessly integrated with Indigo by Avue's Clock: Time & Leave (ATL), ensuring that all time scheduled can be easily tracked against actual employee time.
Schedule: Workforce Scheduling Highlights



Accelerates the scheduling process
Eliminates manual production of schedules
Automatically ensures that the best person is scheduled according to union rules, job qualifications, and availability
Improves Productivity
Enables managers to make staff changes quickly according to changing demand
Ensures employees with the right skills are scheduled
Ensures union and regulatory compliance
Ensures compliance with labor laws or union rules and avoids disputes
Ensures that only qualified employees are working
Feature Functionality
Define Staffing Requirements
Staffing requirements can be defined by team or area. Templates can be used to take advantage of re-use of staffing requirements due to seasonality/ events/ etc.
Automatically Fill the Schedule
Reconciles labor requirements with employee availability and scheduled absences.
Bumping algorithm automatically places employees into jobs based on labor demands
Placement uses configurable sorting criteria such as employee availability, qualifications, ranking, and seniority
More complex bumping options are available such as cross-shift bumping which bumps employees from other shift pools to meet qualification criteria
Daily Staffing Features
Ability to book employees off and record reason code
Use complex 'bubble-bumping' to re-shuffle employees into open positions that reflect importance of job as well as employee ranking
Use "quick find" pop-up to assist in finding employees to fill open positions based on overtime offered, accepted and refused and days worked
Provides phone number and ability to enter comment for employee being called in
Ability to perform mass changes to the schedule
Schedule compliance can be used as an option, to ensure no scheduling rules are being broken