A complete and cost-effective
time and attendance solution
Ensures compliance while dramatically reducing costs
and generating significant increases in employee productivity
———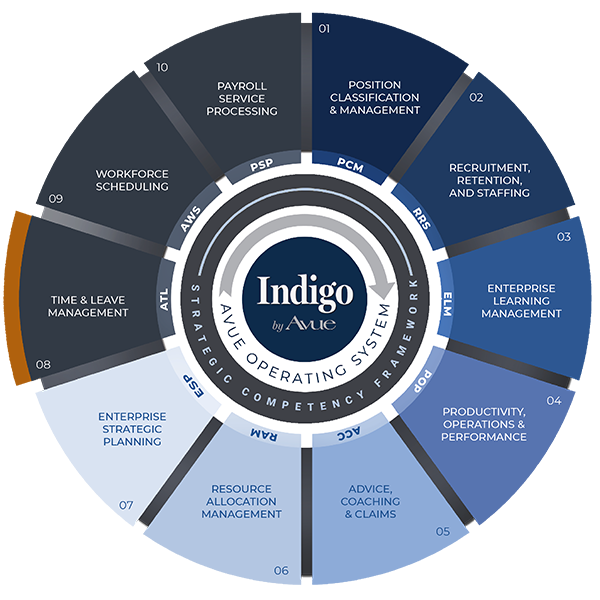 The Indigo by Avue Time & Leave (ATL) module is the only workforce management solution that can automate 100 percent of pay rules and centralize zero-to-gross pay functionality for even the most complex enterprises. In addition, it offers the most advanced time and attendance functionality available on the market, with sophisticated features including retroactive adjustments, labor and production metrics, real-time rules processing and, as with all Avue modules, the ability to configure the application to meet customer-specific requirements.
Indigo Time & Leave includes flexible timesheet options for capturing and calculating salaried and non-salaried employee pay, employee profile management, and employee, team and payroll consoles to quickly approve timesheets and manage exceptions, and labor and productivity costing enabling better decision-making. Indigo Time & Leave maintains an attendance history by employee and provides reports and notifications of violations based on an organization's settings. It also incorporates an unlimited number of warning periods, thresholds, and attendance groups while and maintaining detailed histories.
Indigo Time & Leave also includes complete leave management functionality that enables an organization to manage and track leave requested by employees. It provides out-of-the-box capability to support the leave management process, yet is flexible enough to accommodate any number of variations of leave policies required by an organization. By setting up entitlement policies for employees, leave balances are automatically incremented based on company-specific leave rules. Approved leave is tracked by the system to ensure employees are not available to be scheduled.
Indigo Time & Leave is part of the Indigo by Avue / Avue Digital Services® platform, which can scale to an unlimited number of concurrent users. It includes sophisticated rules and workflow processing and security.
HRIS Interface – Through the Avue Operating System (AOS), Indigo Time & Leave enables integration and seamless data exchange if the organization has existing human resources information system
Payroll Interface – Through the Avue Operating System (AOS), Indigo Time & Leave allows for the exchange of time and attendance data with an organization's payroll software system for payroll calculation.
Highlights for Indigo by Avue's Time & Leave Module



Reduces Gross Payroll Costs
Reduces overtime expenses
Improves accuracy of time tracking
Reduces pay errors and retroactive adjustments
Decreases overstaffing
Reduces Payroll Management Costs
Automates most payroll administrative tasks
Automates complex pay rate calculations
Moves payroll FTEs to more value-added work
Improves Employee and Supervisor Productivity
Drastically reduces supervisor time spent on administrative tasks
Increases the time available to do productive work
Automates frequent business processes such as vacation requests, FMLA forms, etc.
Reduces labor grievances
Employees directly access frequently used workplace information and processes through an easy-to-use interface. They can view balances, personal profiles, pay history, and request leaves. Administrative processes are streamlined and valuable manager and supervisor time is focused on workforce performance to increase productivity and improve employee satisfaction.
Enhances Visibility and Control
All Time & Leave clients also receive Avue Command Center™ Online Reporting and Decision Support — a state of the art, 100-percent web-based solution that provides strategic insight into key workforce performance indicators with at-a-glance dashboards and advanced reporting. The Avue Command Center delivers immediate value for users with pre-defined role and specific launch pads. Integration with Indigo Clock provides transparency into hours worked, overtime, and labor costs to improve decision-making. Managers can spot and understand attendance and labor cost trends with meaningful visuals.
Improves Decision-Making
Provides accurate and current labor costing data
Provides full audit trail of data
Indigo Time & Leave Feature Functionality
Track labor with a choice of daily or weekly timesheets
View and approve employee time with the Supervisor Approval Worksheet
Manage employee profiles
Employee, Team and Payroll consoles for quick access to key functionality and information
Completely automates retroactive adjustments without need for historical edits
Provides labor costing and reporting of time to the General Ledger for work orders, projects, cost centers, and job codes
Supports 100-percent rule automation and real-time rule processing
Provides full audit tracking and reporting
Edit multiple employee timesheets simultaneously with Mass Edits
Predefined integration with other Indigo by Avue modules including Workforce Scheduling, and Organizational Optimization through competencies for enhanced optimization.
Indigo Time & Leave Highlights for Leave Management
Eliminates "lost time" by ensuring fair and equitable administration of employee leave across the organization
Increases operational efficiency
Eliminates manual tracking of employee leave accrued and used
Automates leave request and manager approval
Improve employee satisfaction through online access to leave requests and up-to-the minute accrual and balance information
Flexible and automated leave management
Automates process for submitting, processing and approving employee leave requests
Tracks any type of leave balance including vacation, prepaid vacation, FMLA, and sick
Entitlements awarded based on leave rules
Leave policies can be defined and associated with different groups of employees Automates entitlements
Ensures employees accrue the correct type and amount of leave and any other kind of accrual
Accruals are grouped logically into employee entitlement policies
Automates balance management
Track balance information in real-time, including accrued and approved / used leave
Enforces minimum and maximum balance thresholds
Supports an unlimited number of leave balances
View cascading balance as a primary balance is consumed
Integrates easily with balance information stored in HR or payroll systems